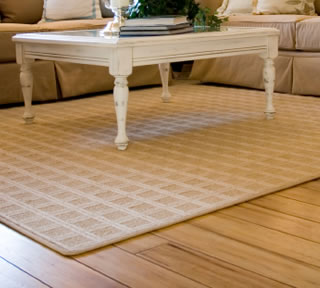 Why choose us?
Because our cleaning and restoration system cannot be bettered!
Rugs can be more fragile than carpets and we treat all rugs, whether antique, persian, very old or very modern, with care and expert attention so not only do we achieve a thorough clean, we also make sure they look as beautifully restored as possible.
We are one of a few Bristol rug, upholstery and carpet cleaning companies to be able to carry out restorative cleaning. We use van mounted hot and cold water extraction equipment which is 20 times more powerful than any portable machine.
We don't just lift surface grime and dirt - we clean the whole rug and get it back to as near its original state as is actually possible. (and because we run the pipes into the house from the van, we get no fumes or mess in your home and even take away the dirty water ourselves!).
We also use a dry vacuum to remove all dry soiling prior to using the hot water equipment. This doubles up the power of the clean and means there is no abrasive dirt on the fibres of your rug which can wear it down.
And if we think rug dyes are unstable, and colours may run, we use only a dry cleaning process.
DON'T REMAIN DIRTY BENEATH THE SURFACE!
Other cleaning companies use portable cleaners with far less power. These can lift the surface dirt but leave grime, stains and dirt within the pile and fibres. This means your rug or carpet remains dirty beneath the surface - you will see shading beneath, and there may be mites or dirt causing damage and abrasion to the fibres.
A thorough clean eliminates this and helps look after the rug for longer - less abrasion within the rug, less damage and deterioration
9 reasons to use Avon Clean Care for Carpet Cleaning Brilliance!
We won't keep you waiting

We will arrange a time that's convenient for you and turn up at that time. If unforeseen circumstances mean we are running late, we will ring you to let you know.

No hidden extras

We will accurately cost the job before we book it and you will NEVER be presented with unexpected extras.

We aim to thrill!

If you have experienced average or bad service from other cleaning companies (sending untrained personnel, using third party sub contractors, poor or shoddy workmanship, bad time keeping, rude customer service and over charging) then try us – I can categorically say that you will be thrilled you did.

No hard sell - simply the right advice

We are a family firm and pride ourselves on our great reputation - in cleaning and in customer service. We DON'T hard sell - you get a quote and we leave you to think about it - and we are ALL qualified and expert in the cleaning and restorative business.

Accurate quoting

Our accurate quoting includes VAT - no hidden extras! bill).

We are professionally certified

For rug, carpet, upholstery and stone floor cleaning, we are registered and certified members of the IICRC (Institute of Inspection, Cleaning and Restoration Certification).

This industry body is completely independent and recognised for setting the benchmark industry standards.

Approved rug and upholstery cleaning process

We follow the 9-step IICRC rug cleaning standard and 8-step IICRC cleaning standard every single time to ensure you get the highest quality clean.

No subcontractors

Every highly experienced member of our specialist team is fully employed by Avon Upholstery Care. We take pride in our work and no matter which one of our team works for you, you will get the same consistent delivery of service.

One stop shop

We have four restoration teams: Avon Rug Care, Avon Upholstery Care, Avon Carpet Care and Avon Stone Care (stone and ceramic). Together, we are a one stop shop for all your floor and textile cleaning and restoration needs.